Rigid, impact-resistant and durable small load carriers made from recycled transport boxes and old PET bottles
Researchers at the Fraunhofer WKI have collaborated with an industrial partner on the production of injection-molded transport boxes that are more rigid than conventional small load carriers but nevertheless still impact-resistant. For the production, they used discarded transport boxes as well as recycled PET fibers in order to close the material cycle.
Researchers at the Fraunhofer WKI, in collaboration with project partner ISOCO Plastics Technology GmbH, have succeeded in improving the performance capabilities of thin-walled components which are manufactured by means of injection molding. The cooperation partners have successfully developed a material that is impact resistant but offers improved rigidity compared to the current series material. For this, they combined higher-melting polyethylene terephthalate (PET) fibers (as fiber reinforcement) with low-melting polypropylene (PP) in order to create a composite plastic. The researchers tested their material development in the form of a small load carrier (SLC), which is a reusable transport container utilized in the logistics sector. SLCs are currently series-produced using non-reinforced PP.
"The fact that we have been able to produce a stronger and more rigid transport container using injection molding means that it will be possible to use less material in the future. This material saving has ecological and economic advantages," explained Carsten Aßhoff, Project Manager at the Fraunhofer WKI.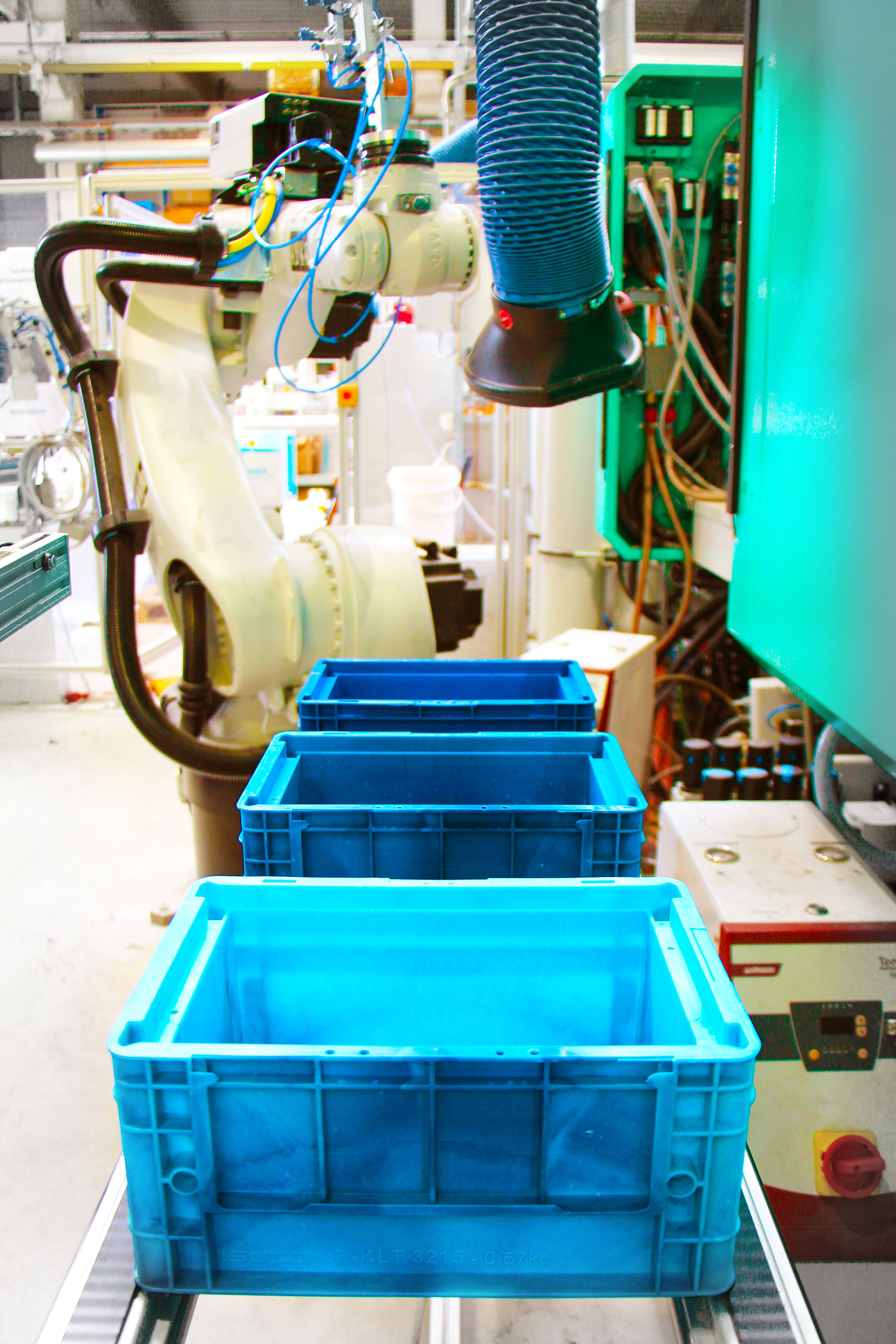 Furthermore, the researchers have examined and improved the durability of the SLCs, which are subjected to severe environmental and ambient influences during use. In addition to the production environment, in which the containers come into contact with oil or fuel, for example, environmental influences and washing-process cycles at 60 °C with cleaning agents also lead to an accelerated embrittlement of the conventional series material. "These influences make the SLCs considerably more sensitive to impact and shock and lead to damage over the course of time. The damaged SLCs are discarded, as they are no longer suitable for the safe transport of goods. In our project, we therefore wanted to try to close the material cycle; for this, we investigated whether we could use the discarded SLCs as a recycling source of raw materials," explained Mr. Aßhoff.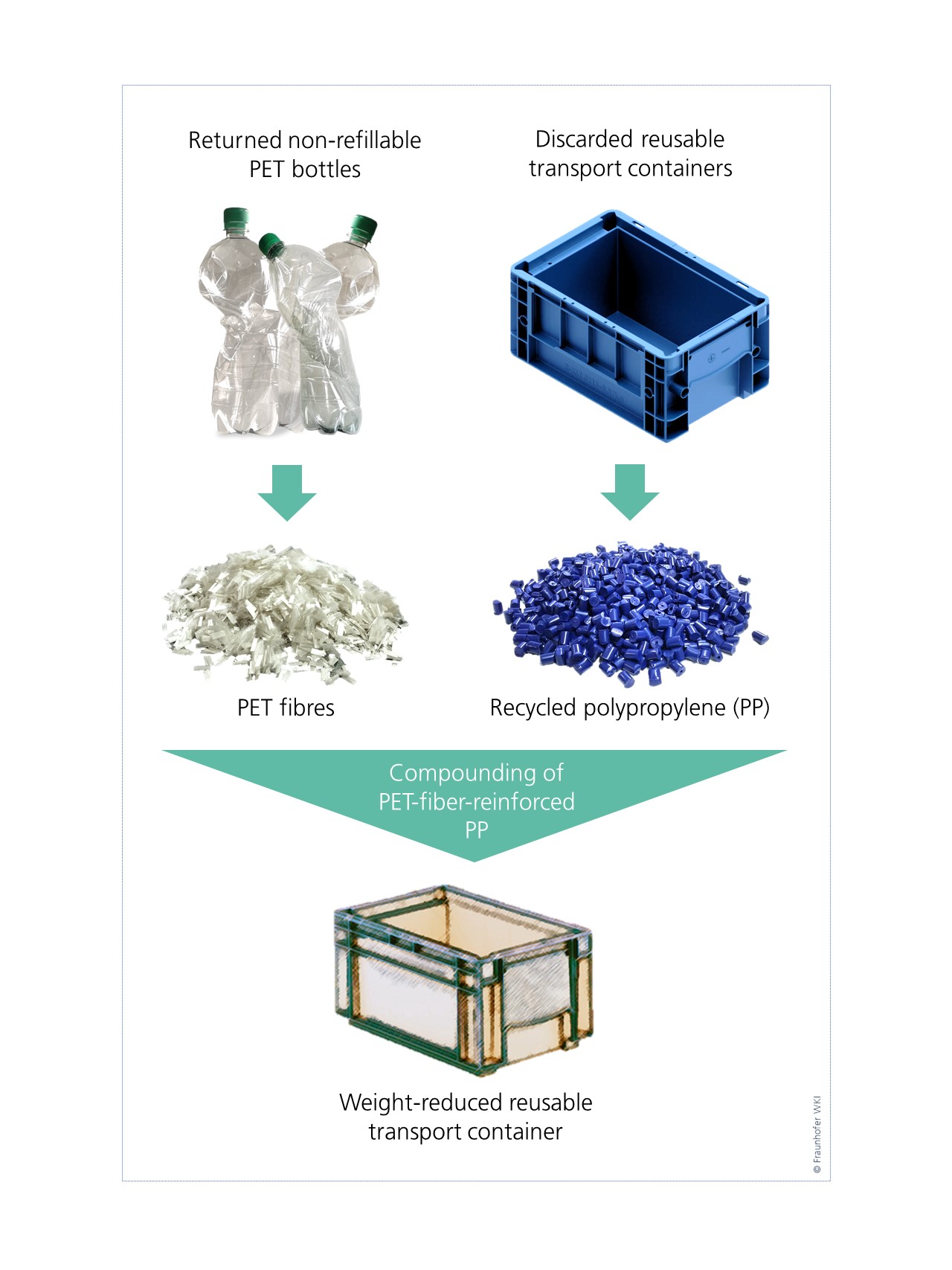 For the production of their SLC, the researchers tested the use of already discarded transport boxes as well as recycled PET fibers, for example from non-refillable beverage bottles. For this purpose, they investigated SLC material flows, among other aspects. Suitable PP residues were identified and used as starting materials in order to add PET-fiber reinforcement to the recycled PP.
The project partners also tested the behavior of the materials in cascade use and ascertained what findings could be derived regarding, for example, the material or product quality. Both the newly developed material and the existing SLCs were subjected to comparative testing by means of exposure to UV weathering and high temperature/damp-cold cycles. "The results show that our SLCs are more durable and resistant than conventional transport containers, even though they are made from recyclates," said Mr. Aßhoff.
The material and process adaptations developed during the research project provide a significant contribution towards improving the material performance, economy and ecology of the reusable container in the expanding logistics sector. The new material could be used, for example, to produce fruit, vegetable and bread containers, fish and meat containers, beverage crates, mail containers, containers for large mail-order companies, or storage boxes for everyday use. The findings could also be applied to numerous applications outside the logistics sector. Impact-sensitive exterior components for the automotive industry, which simultaneously require a higher level of rigidity and strength than a non-reinforced plastic can provide, could also be produced from the new recycled material.
Funding
The project "Verbesserung der mechanischen Eigenschaften und Langzeitstabilität von rezyklierten Polymeren durch PET-Faserverstärkungen – rPET2rPo" (Improvement of the mechanical properties and long-term stability of recycled polymers through PET-fiber reinforcements – rPET2rPo) was funded by the German Federal Ministry of Education and Research (BMBF) via Project Management Jülich.
https://www.wki.fraunhofer.de/en/press-media/2022/PI_2022-07_recycling-small-load-carriers.html